Fight hunger and malnutrition on November 30th (Giving Tuesday)
This Giving Tuesday help us do something amazing.
How?
For every cow sold, we're going to donate 40 lbs of nutrient dense grass fed beef to our local food bank.
If you're feeling particularly generous, purchase a 1/8 beef to donate to the food bank.
Donate here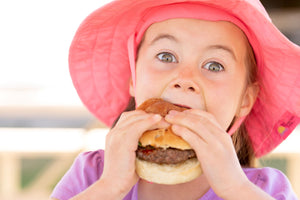 bulk beef, grass-fed grass finished for your family.
Our family has set out to raise the best meat that is healthy and regenerative. For your family and the land.
Healthy Meat For Your Family
You are what you eat and that goes for animals. At SUP our animals spend each day of summer out on fresh green pasture. This helps them produce the most nutrient dense and healthiest meat for your family. Our animals eat as close to their natual diet as possible. When buying meat from us you get.

-100% Pasture Raised, Pasture finished beef - Never fed grain
- Our beef is Dry Aged 14 to 21 days for delicious taste and high nutritional quality
-Raised on our high valley pastures
-Rich in Omega 3's, Vitamin A, Vitamin E, Antioxidants and conjugated Linoleic acid (CLA)

-"Drug Free" (No hormones or antibiotics or mRNA vaccines)
- Our animals get fresh clean pasture every day in a way that regenerates the soil
-You get our 365 Day money back guarantee


Kathi Hutchinson: "Best steak ever! They put Omaha steaks to shame."
Raised with love
Fresh air, open space, loving attention and care.
Our children get the best we can give them.
An education in love for Gods earth and animals.
An opportunity to work with soil, plants and animals.
A chance to regenerate our soil.
A goal, to share clean, healthy nutrient dense food.
With love from our family to yours.